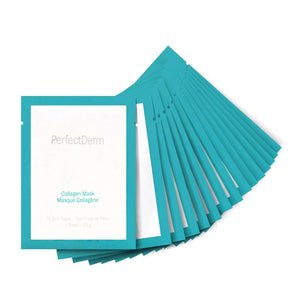 Need bigger sizes!
Need bigger masks, these ones barely cover my face. Fast shipping, and great masks though.
Highly recommended.
Love these masks. I know you are only suppose to use them once or twice a week, but I have been using them almost daily. Once you take off the mask, you are left with some moisture but it quickly dries up leaving your skin refreshed.
HIGHLY recommend
This is the first time I've purchased / used these face / facial masks and love them! Wash face - unfold carefully and apply to face - smoothing over every part. Sit back relax - read - watch tv - work on the computer etc for 15 minutes to a half hour and remove. I then take the mask and gently go over my entire face, neck & back of my hands and just let it dry. I apply a moisturizer over it and leave it on overnight. I actually feel as tho I've gone to a salon and had a facial.
I strongly recommend the perfectderm facial masks.
Great product. It moisturizes skin well leaving it hydrated and younger-looking.
Best mask I've tried so far
These are the best masks. Fit my face perfectly and give me a lot of hydration. I will continue to order them.
Such a great deal!
Love having a stack of these I can come to after a long day for a little miniature "spa" getaway. They all are refreshing. I haven't had any issues with breakouts. Will be ordering again when I run out!
My face looks Great!
It works! My face looks Great!
Feels nice on the skin
I've been using these daily for about 2 months now. Definitely noticing a difference in the smoothness of my skin. I love the exfoliating effect you get after taking it off. Highly recommend :)
Very great masks
Plus, they came way earlier than expected!